customer-service
Buyers Guide
Steam Cleaners Buyers Guide
Vapor Steam Cleaners are incredible tools, here you will read about all of the important information you need to know when looking for a quality dry vapor steam cleaner. You'll also see how Dupray offers the highest quality, most powerful and efficient machines on the market, by Tecnovap.
Vapor Steam Cleaners were originally invented in Italy over 25 years ago using similar technology as their world renowned espresso machines. This type of cleaning equipment has proved itself in the european market for years and is now readily available to you in the North American marketplace. This type of hand made italian vapor steam cleaner uses saturated dry vapor steam (5% water) at a high pressure inside a extremely high quality boiler at incredibly high temperatures, permitting the cleaning and disinfection of almost all surfaces, all without cleaning products!
Some of the more commercially minded steam cleaners include a specially designed detergent tank allowing for you to mix steam and ecological cleaning products to even further enhance your cleaning process. Dupray offers a full line of ecological, biodegradable and non toxic cleaning products, BioVap, specially designed to work hand in hand with Tecnovap Commercial Steam Cleaners. These extraordinarily efficient cleaning products mixed with the extreme power of steam blasts away dirt and bacteria resulting in an unprecedented level of cleanliness, impressing even the most critical eyes in the cleaning industry! The powerful combination of the incredibly strong jet of steam with industrial grade cleaning products allows for some of the hardest tasks to be cleaned easily, a feat never before thought of or seen! Of course the supreme temperatures attained by the Tecnovap steam cleaners at up to 378ºF / 192ºC allow for even the most bacteria ridden surfaces to be cleaned and disinfected in a simple pass.
Dupray's dry vapor steam cleaners use boiling water super heated at pressures up to 145psi / 10 bars to produce dry steam at the highest temperatures in the industry, making degreasing, removing oily substances and encrusted dirt a simple, quick and efficient process.
The most incredible feature of a dry steam cleaner, specifically Tecnovap commercial vapor steam cleaners from Dupray, is the impressively high temperature produced by the heart of the steam cleaner, the boiler, which we stand behind with an incredible life time warranty. The super powerful boiler incorporates the most efficient elements on the market producing temperatures from 155ºC / 311ºF up to 192ºC / 378ºF with super blasting pressures of up to 145psi. The incredible pressures and temperatures of these machines is extremely safe on all surfaces as there is next to no water or matter in the steam to cause damage making it extraordinarily gentile but efficient to clean with.
Key Elements to Consider in a Vapor Steam Cleaner
The Steam Cleaner's Boiler
The most crucial component of a vapor steam cleaner is of course the boiler, Dupray boilers are built to withstand daily use at pressures far superior to their operating pressures, resulting in the safest and most dependable boilers on the market. The superior strength of the Tecnovap boiler is due in part to the construction using only the highest quality stainless steel available for boilers and in part to the use of extremely precise TIG welding, the same technology used on airplanes. The combination of the strength in stainless steel with the most dependable welding methods available allow for Tecnovap boilers to be built with a lifetime warranty, leaving you assured that you'll never have to replace your boiler! Dupray's portable commercial units such as the Hill Super Inox and Hill Injection are outfitted with smaller boilers of 1.5L meaning they need much less water to be boiled to produce their powerful jet of steam, resulting in a extremely quick start up time allowing you to clean sooner and be more efficient in your every day cleaning process. Our Industrial units have boilers up to 14L outfitted with up to 10 individual elements creating some of the highest steam production ever seen in a portable vapor steam cleaner.
Continuous Use / Automatic Refill
There are two types of Vapor Steam Cleaners; Single tank machines and Double tank machines, also called Continuous Use or Automatic Refill. Both have their benefits smaller units such as our Tosca for residential and small commercial use feature the single tank construction, this type of construction is perfect for people who only need to use their machines once in a while for short periods (under 2 hours each time). The other models in our line up all include continuous refill for commercial use which features two tanks, the water tank fills the boiler continuously with extremely small amounts of water as to keep the boiler pressurized, hot and filled with the optimum amount of water at all times for steam production. This means absolutely no downtime when the water tank runs out of water because the boiler is still full. All you have to do is simply fill the water tank and away you go!
Heating Elements
The heating elements designed and patented by Tecnovap are the most efficient and powerful heating elements on the market producing 28W/cm2, allowing for the boilers to be smaller, meaning less water is needed to be heated to create the same amount of steam, this makes the boiler much more efficient and faster. Due to the technology used in the boiler the heating elements are auto cleaning thus making it extremely hard for a layer of deposit to be built up and keeping your elements in top operating condition. One of the most important features of the Tecnovap boiler is the patented design of being able to interchange heating elements. A heating element is a resistor and after years they naturally start to wear out and lose electrical resistance and efficiency, it is common to have to replace the whole boiler when this happens, but thanks to Tecnovap's patented interchangeable heating elements a quick service of the machine will change the elements and have your machine back to operating like it was new in no time. This is increasingly important on machines that feature multiple elements where after years a single element can fail and will need to be replaced instead of replacing the whole boiler you're able to replace the one faulty element. This technology will certainly save you thousands of dollars in the long run!
Built in Vacuums
Dupray is proud to offer built in wet dry vacuums with some of their models, this is an incredible feature for a vapor steam cleaner. The steam vacuum cleaner allows for you to clean using the power of steam to dislodge dirt and at the same time collect it in the stainless steel vacuum drum. The stainless steel waste collection tank allows is a feature that Dupray is very proud of as after years of operating with a plastic tank they found that a stainless steel drum adds great value to the steam vacuum cleaner, aesthetically, making your clients feel that you're operating a very specialized high quality piece of equipment, also it adds a great deal of durability as stainless steel is extremely strong and heat resistant and most importantly when working with a specialized steam cleaner for such applications as gum removal, the fact that the construction is stainless steel is critical as it allows for an extremely easy clean out, leaving your machine cleaner, looking and operating like new for much longer.
Adjustable Steam Pressure
On all high quality steam cleaners including of course every model in the Dupray model range, the units will be built with an adjustable pressure control allowing for steam pressures of between 20psi and 145psi to help you clean with the exact amount of pressure that is best suited for your target cleaning task. The higher end models in the Dupray model range even come outfitted with finger tip pressure controls which will let you change the pressure you're working with at the flip of a switch, just another Tecnovap feature to help make you more efficient by saving you as much time as possible.
Detergent / Hot Water Injection
Dupray dry vapor steam cleaners come with various unique features including the injection of hot water or detergent at the touch of a button. With models like the Hill Injection and Steam Box the injection feature takes boiling water from the boiler to inject it into the steam allowing for excess moister to help flush the dislodged dirt out of the surface, this feature can also be used to rinse down surfaces after being steam cleaned, such as grout cleaning, bathroom cleaning, automobile detailing etc. once you've started using this feature it's impossible to go without it! With our Carmen and Steam box models you're able to use detergent injection with the steam to help degrease and break up dirt extremely fast and easily. This feature is absolutely crucial for applications such as gum removal as the combination of steam and detergent pulverizes the gum and dirt to break it down into a solution that is then easily vacuumed up creating a complete removal of the problem.
Vapor Steam Temperature
The temperature of the steam produced by the boiler of the dry vapor steam cleaners is of course one of the most crucial features to look at when purchasing a commercial steam cleaner. The higher the temperature the greater the effectiveness will be with all cleaning, but it's extremely important on applications such as bed bug removal as bed bugs are exterminated due to their sensitivity to high temperatures (much like bacteria and disinfection) meaning the higher the temperature of the unit the more effective the process will be on killing bedbugs and of course bacteria. Always look for steam cleaners with temperatures of over 150ºC to be able to disinfect and deep clean properly. All Dupray steam cleaners feature boilers operating from 160ºC up to 192ºC making them the most efficient 110V units on the market!
Steam Pressure
Steam pressure is an extremely good indicator of the quality of a unit, units with pressures under 4bar (60psi) are almost useless as they will certainly not have enough pressure to clean properly or produce efficient steam temperatures for disinfection. That being said always look for machines operating at over 60psi, certainly the higher pressure the better!
Quality of Build Construction / Materials
Build quality and the materials used are extremely important indicators of a quality machine. Never purchase machines with poor quality components or casings. Tecnovap machines are 100% assembled in italy using only the highest quality italian components and german electronics making the interior components some of the best in the world. Of course the boilers in every single Tecnovap steam cleaner are built with the highest quality stainless steel, never purchase a machine with an aluminium boiler as it will certainly break quickly. The outside casing of all Dupray steam cleaners is either enamel coated steel or fully stainless steel, this is a true sign of quality that you can see and touch, reassuring you the quality of the machine as a whole. The other extremely important part of quality to look for is the quality of the accessories, Tecnovap is renowned for making the best quality steam cleaning accessories in the industry, so much so that other companies purchase accessories from them. Quality commercial steam cleaners should not come with flimsy light plastic accessories, they should be moulded out of the highest quality plastics with fittings designed to withstand years of use at extremely high temperatures. Never buy a steam cleaner if you're not convinced by the quality of the accessories in your hand.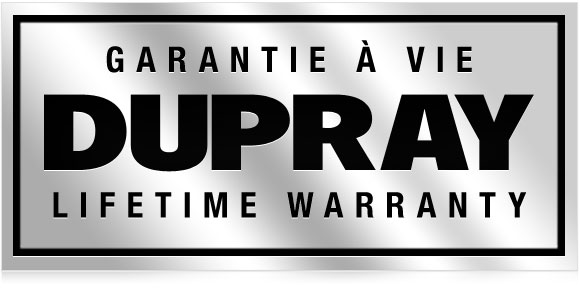 The Warranty
At the end of the day even the highest quality commercial steam cleaners have to be repaired some time, always be certain that the steam cleaners you're looking at to buy are backed with a good warranty. Naturally the longer the warranty the more certain you can be that you're buying a quality machine from a reputable company. Dupray offers a 3 year warranty on all parts of the machine and a lifetime warranty on the boiler. Feel free to compare we're certain we offer the best warranty in the industry.